Equipment Rental
Chipper, Stump Grinder, Log Splitter Rental
Chipper LLC Tree Service rents our equipment and delivers for free along with a skilled hard working operator. We can often provide our larger commercial grade equipment and a skilled helper for the same or less than the cost of equipment rental. Calculate out the true cost of rental and compare.
With a conventional rental you pay for the machine, fuel, cost to pick up and return, plus sales tax (7%), plus loss and damage insurance (15%), plus you are liable for damage to equipment and you are working alone.
With our operator plus machine rental you get a larger commercial grade machine that will operate much faster than a rental machine. We pay the fuel cost, we pick up and deliver, there is no sales tax since you are buying a service not a product, there is no loss and damage waiver since our skilled operator is supervising all work and best of all you get a skilled hard working helper
Available to rent:
Chip Truck and Commercial tree chipper rental
– typical rental units range from 6" to 12" and have 35 to 86HP, we provide a 15" diameter capacity chipper with 140HP that will chip twice as fast as a 12" chipper and 6 times as fast as a 6" chipper – available for rent with operator only. See how we can eliminate the same brush for less money in less time using the best equipment. Also our rental price includes a chip truck and there is no additional charge if you want the chips hauled away. The operator will also have a commercial grade chain saw if anything needs to be cut to fit in the chipper.
$200 for first hour of chipping and $100 per hour after that.
Additional operators available at $30 per hour each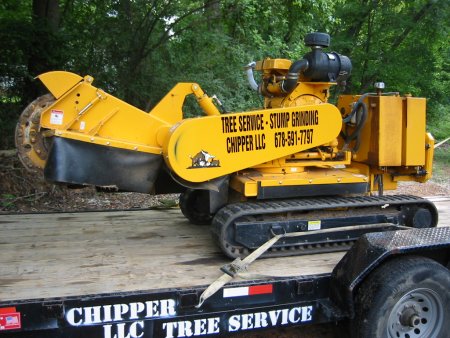 Stump Grinder Rental
– Don't rent a piece of junk frustrating, blister forming stump grinder from the rental yard when you can get us to bring our 60hp commercial stump grinder to your job and grind your stump for about the same cost as you would pay to rent. Plus we'll be done in minutes. Hassle free and affordable. Save the cost of pick up and return, sales tax, fuel cost, and damage waiver.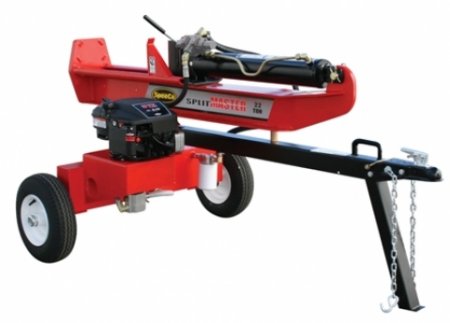 Hydraulic log or wood splitters
– Available for rent stand alone or with operator
Stand alone day rate you pick up and return - $75
With operator and chain saw – Same $75 day rate for splitter – laborer and saw is $30/hr with a 4 hour minimum. Labor rate starts when leave our shop at 14273 Cumming Highway, Cumming GA and ends when we leave your job.