Lilburn GA's Leading Source For Emergency Tree Service
Trust Chipper LLC Tree Service For All Your Emergency Tree Service Needs In Lilburn!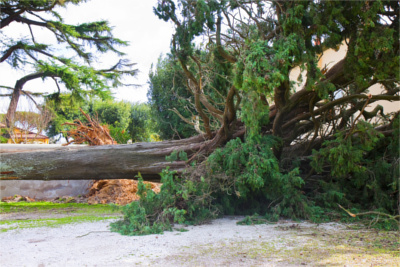 For over 10 years we have created and retained a large group of customers, based on our commitment to quality and affordable tree service pricing. Our commitment to reinvest in our company has grown us to have the manpower, tools, equipment to handle both residential and commercial tree service work. We would love the opportunity to become the company you turn to for your tree service needs!
Our mission is to earn your business by providing superior tree services at unbeatable prices by working harder and by working smarter than the competition. We firmly believe that the focus needs to be on satisfying the customer as our first priority.
If you're experiencing a tree emergency, call us at (678) 591-7797 asap!
At Chipper LLC Tree Service, we know how important it is to quickly remove the tree that's landed on your house so your roof can be stabilized and tarped off. We have multiple full-time estimators for prompt service. We can also tarp your roof for you immediately after removing the tree if needed.
We are environmentally conscious in our demolition methods, and will make every effort to save metal roofing and framing, copper, and aluminum for recycling rather than dumped in our landfills. In a similar effort your tree debris will be converted into logs, fresh firewood, or natural mulch for your landscaping.
Storm Cleanup and Demolition
From fallen branches and leaves to demolition and removal of damaged structures, we are equipped to handle all your after-the-storm needs. We offer turnkey clean-up packages at very competitive rates. We are environmentally conscious in our demolition methods and will make every effort to save metal roofing and framing, copper, and aluminum for recycling rather than dumped in our landfills. Likewise, tree debris is converted to logs, firewood, or natural wood chip mulch.
Tree Removal Experts In Lilburn
We want to be the tree service for all your tree removal needs. We'll perform your tree removal job with minimal impact on your lawn and surroundings as well as use turf friendly track mounted machines, and even do jobs by hand when required to protect your lawn.
Why Would You Want To Remove A Tree?
Trees Outgrow Their Area
Having trees close to your house presents a real "catch 22" situation. On one hand, the shade that trees provide lowers cooling costs in the summer and provides a buffer from winter wind. On the other hand, the reduction in sunlight can contribute to mold and rotten wood, causing maintenance costs to increase (this is covered in more detail in the maintenance section below). Trees too close to houses can also allow unwanted pests like squirrels and mice to enter the attic. Sometimes when a tree is too close to a house, we can simply trim or prune the tree limbs away from the house, but if many limbs need to be removed, it can cause the tree to no longer be aesthetically pleasing. In that case, it may be better to remove the tree and plant another more compact growing tree or simply choose a more suitable location.
Maintenance
I don't know many people who like to clean gutters. I actually could start a gutter cleaning business with the number of calls I get looking for a good cheap gutter cleaner. Everyone wants a cheap gutter cleaner, but all the cheap ones I know aren't insured and therefore I refuse to refer them out. Unfortunately, clogged gutters are worse than not having gutters at all. Clogged downspouts cause the water to overflow onto the face(fascia) boards and water trapped behind the gutters causes them to rot. So that "leaves" (pun intended) us to install a gutter cap like LeafGuard. Otherwise clean them yearly after all leaves have fallen, and if you get fed up with that - we are tree removal specialists!
Tree Pruning & Trimming For Lilburn Homes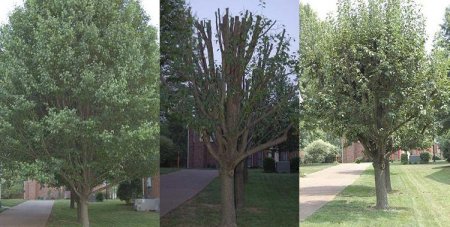 Removing hazardous dead tree limbs can help to prevent property damage, prevent physical injury, and help to promote new tree growth - all while increasing the aesthetic appeal to your yard! In addition to this, proper tree pruning also helps to improve your line of sight for safety reasons, curb appeal, and help to reduce the clutter or mildew build up among your shingles. Trimming your branches closest to your house also prevents those pesky critters such as squirrels or mice from getting into your home. While we don't offer pest control services, we do remove the tree limbs that squirrels will use to enter into your home!
So Which Sort Of Trimming/Pruning is Right For You?
Crown or Canopy Cleaning
This type of tree trimming is removing only unhealthy branches. This is part of routine tree maintenance, where all dead and diseased limbs and limbs too close together, or with attachment points too close together, are removed.
Shaping or Training Young Trees
Starting with young trees is the right way to prune. A little work in the first 5-10 years of a tree's life can save a lot of work later. Trees respond well to pruning when young and pruning mistakes aren't as critical as they are on a mature tree. Bypass Loppers are the best single tool for tree pruning. As you become more advanced you might add more tools to your arsenal. When trees are really young you can focus on shape and as they get older you can focus on removing branches that are too close together or even rub each other, and branches that have weak unions. As we covered earlier, it becomes more difficult to prune trees as they get older.
---
Testimonials About Our Emergency Tree Service in Lilburn:
"Thanks for a job well done! We are really pleased with your company's work!"

Brad Stanley - Johns Creek GA
"We were very pleased with the work you guys did. Most importantly we were very impressed by the way the mistake was handled (broken limb damaged shed) It is evident that your company strives to be the best at what you do and your employees strive to do the best job possible. Not many companies out there would own a mistake and take care of it as quickly and professionally as your company did."

Kristi Gayton -- Marietta GA
---
For the best quality emergency tree service in all of Lilburn, choose the experts at Chipper LLC Tree Service! We are available for emergency tree removal and service, and can help transform your yard into something beautiful once more.
Contact us
for a FREE estimate ASAP!