Tucker GA's Top-Rated Source For Tree Trimming
Choose Chipper LLC Tree Service For All Your Tree Trimming Needs Throughout Tucker!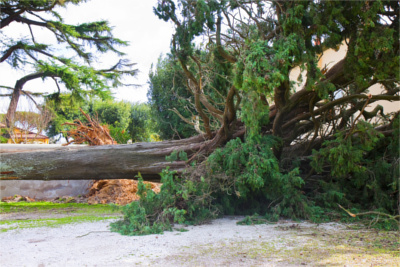 For over 10 years we have created and retained a large group of customers, based on our commitment to quality and affordable tree service pricing. Our commitment to reinvest in our company has grown us to have the manpower, tools, equipment to handle both residential and commercial tree service work. We would love the opportunity to become the company you turn to for your tree service needs!
Our goal is to perform your job with minimal impact on your lawn and surrounding landscape. We aren't just tree cutters who subcontract our work, we are a tree service whose job is not complete until the work is done and the mess is gone. We use track-mounted low ground pressure machines and even do jobs by hand when required. Our estimator will be happy to discuss your tree service job in detail and ensure everything goes smoothly.
If you're experiencing a tree emergency, call us at (678) 591-7797 asap!
At Chipper, LLC Tree Service, we understand the importance of quickly getting the tree off your house so the roof can be stabilized and tarped. We have multiple full-time estimators for prompt service. We can also tarp your roof for you immediately after removing the tree if needed.
We strive to be as environmentally conscious as possible with our demolition methods, and make every attempt to save metal roofing and framing, copper, and aluminum for recycling rather than dumped in our landfills. Likewise, tree debris is converted to logs, firewood, or natural wood chip mulch.
Storm Cleanup and Demolition
From fallen branches and leaves to demolition and removal of damaged structures, we are equipped to handle all your after-the-storm needs. We offer turnkey clean-up packages at very competitive rates. We are environmentally conscious in our demolition methods and will make every effort to save metal roofing and framing, copper, and aluminum for recycling rather than dumped in our landfills. Likewise, tree debris is converted to logs, firewood, or natural wood chip mulch.
Tree Removal Experts Serving Tucker
We want to be the tree service for all your tree removal needs. We'll perform your tree removal job with minimal impact on your lawn and surroundings as well as use turf friendly track mounted machines, and even do jobs by hand when required to protect your lawn.
Why Would You Want To Remove A Tree?
Tree Roots Cause a Problem
Unfortunately, tree roots sometimes can clog up your septic system, or they can crack your driveway, sidewalk, pool, or foundation. Since there is no way to stop this other than tree removal, it is always best to do some research or consult a landscape professional when choosing a location for trees around a house or driveway. Oftentimes, people fail to understand the mature growth size of a tree before they plant it or they just plan to sell the house before it reaches maturity - leaving the next owner to have to pay a professional tree service to remove the tree.
Impact on Home Value
While the right tree in the right location can increase a home's value, the wrong tree can hurt home values. Often, we can improve the curb appeal of a house in the woods by raising the tree canopy, which is simply removing the lower limbs blocking the view of the house from the road. Unfortunately, sometimes to improve the curb appeal we have to resort to tree removal.
Tree Pruning & Trimming For Tucker Homes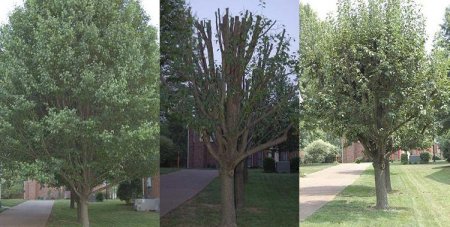 Removing hazardous dead tree limbs can help to prevent property damage, prevent physical injury, and help to promote new tree growth - all while increasing the aesthetic appeal to your yard! In addition to this, proper tree pruning also helps to improve your line of sight for safety reasons, curb appeal, and help to reduce the clutter or mildew build up among your shingles. Trimming your branches closest to your house also prevents those pesky critters such as squirrels or mice from getting into your home. While we don't offer pest control services, we do remove the tree limbs that squirrels will use to enter into your home!
So Which Sort Of Trimming/Pruning is Right For You?
Crown or Canopy Cleaning
This type of tree trimming is removing only unhealthy branches. This is part of routine tree maintenance, where all dead and diseased limbs and limbs too close together, or with attachment points too close together, are removed.
Crown or Canopy Reduction
Canopy reduction occurs where a tree has outgrown its environment and cannot continue to grow upward. This is most often due to interference with overhead utility lines and is best done as part of a maintenance program where a small portion is removed each year (always less than 25%).
---
Testimonials About Our Tree Trimming in Tucker:
"Chris, thank you and your team. I spoke with my mother tonight and she indicated she had never been so impressed. Your guys were courteous and polite and efficient. Again thanks, you will keep getting our referrals."

Jim Pruett -- Roswell GA
"We were very pleased with the work you guys did. Most importantly we were very impressed by the way the mistake was handled (broken limb damaged shed) It is evident that your company strives to be the best at what you do and your employees strive to do the best job possible. Not many companies out there would own a mistake and take care of it as quickly and professionally as your company did."

Kristi Gayton -- Marietta GA
---
If you think your home in Tucker could benefit from tree trimming experts, contact Chipper LLC Tree Service today for affordable pricing and quality service! We are available for emergency tree removal and service, and can help transform your yard into something beautiful once more.
Contact us
for a FREE estimate today!