Dawsonville GA's Top-Rated Source For Tree Trimming
Trust Chipper LLC Tree Service For All Your Tree Trimming Needs In Dawsonville!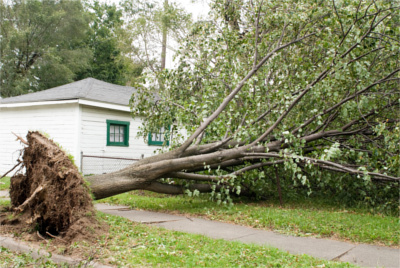 For over 10 years we have created and retained a large group of customers, based on our commitment to quality and affordable tree service pricing. Our commitment to reinvest in our company has grown us to have the manpower, tools, equipment to handle both residential and commercial tree service work. We would love the opportunity to become the company you turn to for your tree service needs!
Our mission is to earn your business by providing superior tree services at unbeatable prices by working harder and by working smarter than the competition. We firmly believe that the focus needs to be on satisfying the customer as our first priority.
If you're experiencing a tree emergency, call us at (678) 591-7797 asap!
At Chipper, LLC Tree Service, we understand the importance of quickly getting the tree off your house so the roof can be stabilized and tarped. From simple fallen tree removal from your driveway to heavy crane hazardous tree removal service, Chipper, LLC Tree Service is happy to help with your emergency tree removal and storm damage clean up needs.
We strive to be as environmentally conscious as possible with our demolition methods, and make every attempt to save metal roofing and framing, copper, and aluminum for recycling rather than dumped in our landfills. Likewise, tree debris is converted to logs, firewood, or natural wood chip mulch.
Storm Damaged or Injured Trees
Sometimes storm damage may just be a broken limb that doesn't compromise the tree, but it is a good idea to have any tree that has lost a large limb inspected by a tree professional who can do a risk assessment on the tree to make sure more limbs aren't injured and waiting to fall. We provide this service for free. I once had an 8" limb fall from a damaged tree onto my head and I probably wouldn't be writing this if it weren't for my hard hat. I still suffered a minor concussion, sore back and busted lip with a hard hat on. Granted a tree limb falling on you isn't likely but neither is getting struck by lightning and most of us try to avoid that risk. Injured trees are more likely to fail/fall but injuries don't always necessitate tree removal. We and most true tree service professionals offer free inspections.
Tree Removal Experts In Dawsonville
We want to be the tree service for all your tree removal needs. We'll perform your tree removal job with minimal impact on your lawn and surroundings as well as use turf friendly track mounted machines, and even do jobs by hand when required to protect your lawn.
Why Would You Want To Remove A Tree?
Trees Outgrow Their Area
Having trees close to your house presents a real "catch 22" situation. On one hand, the shade that trees provide lowers cooling costs in the summer and provides a buffer from winter wind. On the other hand, the reduction in sunlight can contribute to mold and rotten wood, causing maintenance costs to increase (this is covered in more detail in the maintenance section below). Trees too close to houses can also allow unwanted pests like squirrels and mice to enter the attic. Sometimes when a tree is too close to a house, we can simply trim or prune the tree limbs away from the house, but if many limbs need to be removed, it can cause the tree to no longer be aesthetically pleasing. In that case, it may be better to remove the tree and plant another more compact growing tree or simply choose a more suitable location.
Impact on Home Value
While the right tree in the right location can increase a home's value, the wrong tree can hurt home values. Often, we can improve the curb appeal of a house in the woods by raising the tree canopy, which is simply removing the lower limbs blocking the view of the house from the road. Unfortunately, sometimes to improve the curb appeal we have to resort to tree removal.
Tree Pruning & Trimming For Dawsonville Homes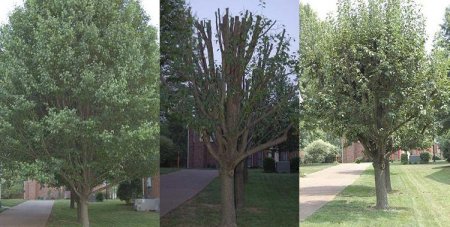 Removing hazardous dead tree limbs can help to prevent property damage, prevent physical injury, and help to promote new tree growth - all while increasing the aesthetic appeal to your yard! In addition to this, proper tree pruning also helps to improve your line of sight for safety reasons, curb appeal, and help to reduce the clutter or mildew build up among your shingles. Trimming your branches closest to your house also prevents those pesky critters such as squirrels or mice from getting into your home. While we don't offer pest control services, we do remove the tree limbs that squirrels will use to enter into your home!
So Which Sort Of Trimming/Pruning is Right For You?
Crown or Canopy Cleaning
This type of tree trimming is removing only unhealthy branches. This is part of routine tree maintenance, where all dead and diseased limbs and limbs too close together, or with attachment points too close together, are removed.
Crown or Canopy Thinning
In crown thinning, the first step is to perform crown cleaning and then go on to remove more branches with a focus on increasing aesthetics, improving light penetration, improving air flow, improving visibility, or a combination of the above. It is not recommended to remove more than 25% of the tree's foliage-producing limbs in one year.
---
Testimonials About Our Tree Trimming in Dawsonville:
"Chipper LLC, Thanks for a job well done! I appreciate the fast response and attention to clean up. A very satisfied client"

Jerry Galvin
"A note just to say thank you for such a quick response to my tree problem. Your crew did such a great job, I have already recommended your company to a neighbor looking for tree service. I plan on using your company for any future tree services. Again, thanks and give your crew praise for the outstanding service they provided me.

Victor McLendon -- Johns Creek GA
---
If you think your home in Dawsonville could benefit from tree trimming experts, contact Chipper LLC Tree Service today for affordable pricing and quality service! We are available for emergency tree removal and service, and can help transform your yard into something beautiful once more.
Contact us
for a FREE estimate ASAP!