Chipper LLC Tree Service › Tree Services › Land & Lot Clearing
Fast & Affordable Land and Lot Clearing in Cumming, GA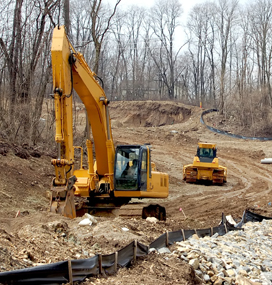 Let us clean-up or clear your lot, lawn, or land by removing any unnecessary underbrush, undergrowth, and trees. We also remove unsightly trash from your property as well!
From small yard cleanup jobs done by hand to large land clearing jobs done with a loader, bulldozer or forestry mower, we can handle your cleanup or clearing needs. We can do lot clearing to prepare for house construction where we remove trees and the root ball, or tree removal and stump grinding.
We can also save you money if you don't need the root balls removed. We can remove the trees and grind the stumps cheaper than someone pushing them over with a bulldozer. This method also keeps you from starting erosion and having to install a silt fence. We have free estimates and would love to show you how we can save you money on your next land clearing job.
Cleaning up your lot or land is especially useful when you are trying to sell the property. Many prospective buyers will not even get out of the car if they can't walk the property easily. I (the company owner) have done well in real estate by buying overgrown property that could be cleaned up and subdivided for a profit, so I can definitely speak to the merits of cleaning up your lot to improve resale value.
---
Tree Removal for Site Prep
We can typically perform lot clearing jobs in a lower impact, more professional, and more cost-effective manner than most grading contractors. We can cut trees and then grind the stumps at a better price than using a bulldozer to push the trees over and then having to haul the stumps off. Our process eliminates the trees and stumps without making a mess of your property. If you need root balls removed, we can dig them out easily once we have ground the core of the stump out. Also, we chip the trees on site and can leave chips to use for stabilizing the soil at the completion of the project.

---
Our lower impact removal process will save you money on erosion control measures like silt fence and straw as well as reduced job cost. Call us for a free estimate today at 678-591-7797!