Chipper LLC Tree Service › Tree Services › Stump Grinding
Complete Stump Grinding Services in Cumming, GA & the Surrounding Areas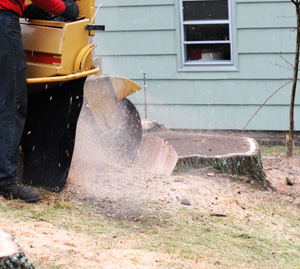 We have the most cost-effective, industry-standard stump grinding equipment available!
We are able to offer great prices on stump grinding by utilizing industry-leading equipment like our track-mounted self-propelled stump grinder which will fit through openings as small as 36", but packs enough power to accomplish large jobs quickly.
---
What is Stump Grinding?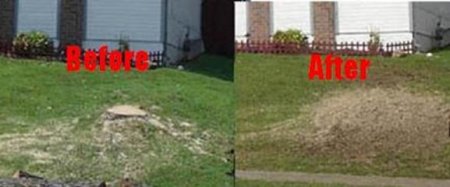 A machine a little bigger than a large lawn mower comes to the stump (ours is mounted on rubber tracks to minimize damage to your lawn). It has a wheel with sharp teeth that grind the stump into fine mulch. Stumps are ground 4-7" below ground level. When we leave the mulch from the stump is raked back into the hole where the stump was and in the place of a stump, you have a small bed of mulch.
---
Prices
We charge by the inch in diameter allowing you to easily determine the cost of grinding stumps as follows:
We charge a $90 trip fee to move the machine to the job (additional mileage charge applies for trips over 10 miles) and then charge per inch in diameter. For exact pricing simply find the widest portion of the stump and measure the distance across. Next call us to give us the number of stumps and diameter and we take care of the rest.
Grinding Stumps up to 36" in diameter $2.00 per inch
Grinding Stumps 36" to 48" in diameter $2.50 per inch
Grinding Stumps 48" to 60" in diameter $3.00 per inch
Grinding Stumps over 60" per quote $4.00 per inch and up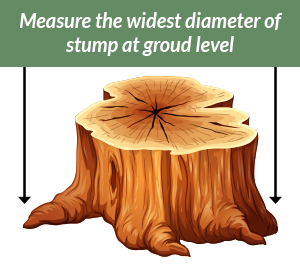 Note: Large diameter stumps not cut low to ground prior to arrival are subject to extra charges. Chipper, LLC Tree Service is not responsible for damage to unmarked underground utilities or accessories. Chipper LLC is happy to call a locate request for public underground utilities including Cable, Electric and Gas. Customer is responsible for marking water lines or sprinklers if applicable as they are not covered by the utilities protection center.
---
Georgia Utilities Protection Center
Customer is encouraged to contact the Georgia Utilities Protection Center or call 811 for free underground utility locating and marking prior to service.
---
Additional Services
We can grind stumps deeper than 7" if necessary, but we have to charge extra to dig the mulch out of the way by hand to allow the machine to go deeper. We can also remove the mulch and replace with dirt. We can even re-seed grass on the fresh dirt. These services can be quoted after the stump grinding is complete.
---
Alternatives to Stump Grinding
If you need to remove a stump there are a couple options other than stump grinding available to you. See details below:
1. Hand-digging
Small stumps 6" or less, or stumps that are already semi-rotted, may be dug out (the best tool for this job is a cutter mattock). We often grind stumps where someone attempted this but decided it was more work than expected or wanted, but if you have energy to burn or a teenager this might be an option for you to save money on smaller stumps.
2. Digging out with machinery
While this process is the most costly and invasive method of stump removal, it is sometimes necessary if a house or structure is going to be constructed where the stump is located. We have also done stump grinding in these situations where the stump was too big for the machine to handle so the center of the stump was ground out with our stump grinder and the excavator dug out the roots.
3. Chemicals
There are many chemicals available that make stumps decompose faster, but it will still take many years for the stump to decompose if it is not small. You can buy them at your local hardware store. I have done stump grinding where people used chemicals on the stumps about 5 years prior and the stump was still solid, but this is on stumps around 2 foot in diameter. From my experience, I would advise against chemicals if you actually want the stump to rot away quickly. It works if you have time, the best way to accelerate the rotting process is to dump some mulch or better yet manure on top and cover with black plastic (this makes for good conditions for bacteria which break the stump down). If you just want the stump to die and not re-sprout out from the stump and roots, then chemicals are a good option for you.
4. Fire
Another method I don't recommend. It takes a long time to burn a tree stump. If you don't completely burn the stump the charred remains are a real eyesore. And, if your fire was to escape onto neighboring properties you could find yourself in a lot of trouble.
---
Stump Grinding is our specialty at Chipper LLC Tree Service and we provide great service at an unbeatable price to Cumming, Milton, Alpharetta, Roswell, East Cobb Marietta, Canton, Woodstock, Ball Ground, Dawsonville, Suwanee, Johns Creek, Sandy Springs, Dunwoody, North Atlanta, Norcross, Duluth, Sugar Hill, Buford, and Gainesville.