Chipper LLC Tree Service › Tree Services › Underbrush & Forestry Mowing
Professional Forestry Mowing Services in Cumming, GA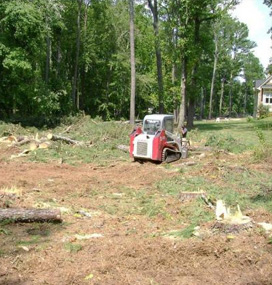 Brush Mowers and Forestry Mowers are attachments for a skid steer that are much more productive in thick underbrush than a brush hog and tractor.
Our brush mower attachment is the most cost-effective way to handle large areas overgrown with tall grass, weeds, vines, small trees, briars, kudzu, and other underbrush. Having operated both brush mowers and forestry mowers, we have found the most cost-effective way to handle an overgrown job is to use a brush mower to remove all debris and saplings under 5" diameter and follow through with traditional tree service equipment like chainsaws, grapple loaders and commercial chippers to remove large trees. Using the correct tools for the job allows us to handle tree removal and land clearing jobs of all sizes quickly, safely and affordably.
---
Don't hire an overpriced forestry mower to do the job. We can do the job affordably and professionally using our skid steer mounted brush mower in conjunction with a commercial tree chipper and stump grinder.
See What Our Customers Are Saying!
"We had 2 Silver Leaf Maples whose roots were taking over our small lawn. I called 5 different Kudzu companies who had 5-star ratings, including Chipper. They had the BEST price, were able to get the job right away, AND when they got here I was fascinated and impressed with the crew, their accuracy in safely getting the trees down without any damage, and then cleaning the trees up. Today the stump grinder and log remover came and they were just SO wonderful, careful, and skilled. Proves you don't have to pay the highest price for the BEST JOB! Thanks Chipper!! I will call you again!" - Sydney P.