Chipper LLC Tree Service › Tree Services › Emergency Tree Service
Chipper, LLC Tree Service Proudly Offers 24-Hour Emergency Tree Service in Cumming, GA and the Surrounding Areas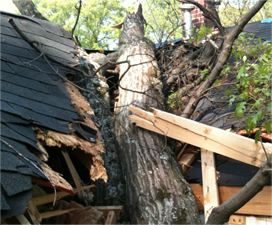 When trees fall on a house, it is often during rain storms, and often happens after standard business hours.
At Chipper, LLC Tree Service, we understand the importance of quickly getting the tree off your house so the roof can be stabilized and tarped. We have multiple full time estimators for prompt service. We can also tarp your roof for you immediately after removing the tree if needed.
From simple, fallen tree removal from your driveway to heavy crane, hazardous tree removal service, Chipper, LLC Tree Service is happy to help with your emergency tree removal and storm damage cleanup needs.
---
60 Days Interest-Free
Unlike some tree companies who demand payment at time of service, Chipper, LLC Tree Service will give you up to 60 days interest-free on insurance claims so you have time to collect payment from the insurance company, rather than having to pay out of pocket.
---
Storm Damaged or Injured Trees
Sometimes storm damage may just be a broken limb that doesn't compromise the tree, but it is a good idea to have any tree that has lost a large limb inspected by a tree professional who can do a risk assessment on the tree to make sure more limbs aren't injured and waiting to fall. We provide this service for free. I once had an 8" limb fall from a damaged tree onto my head and I probably wouldn't be writing this if it weren't for my hard hat. I still suffered a minor concussion, sore back and busted lip with a hard hat on. Granted a tree limb falling on you isn't likely but neither is getting struck by lightning and most of us try to avoid that risk. Injured trees are more likely to fail/fall but injuries don't always necessitate tree removal. We and most true tree service professionals offer free inspections.
---
Storm Cleanup and Demolition
From fallen branches and leaves to demolition and removal of damaged structures, we are equipped to handle all your after-the-storm needs. We offer turnkey clean-up packages at very competitive rates. We are environmentally conscious in our demolition methods and will make every effort to save metal roofing and framing, copper, and aluminum for recycling rather than dumped in our landfills. Likewise, tree debris is converted to logs, firewood, or natural wood chip mulch.
---
Chipper, LLC Tree Service performs 24-hour emergency tree removal service for residential and commercial businesses in: Cumming, Alpharetta, Milton, Roswell, Marietta, Atlanta, Sandy Springs, Dunwoody, Norcross, Johns Creek, Duluth, Suwanee, Sugar Hill, Buford, Gainesville, Woodstock, Holly Springs, Canton, Ball Ground, Dawsonville, Georgia.