Chipper LLC Tree Service › Tree Services › Firewood
Premium, Seasoned Firewood for Sale in Cumming, GA
11/17/21
*Seasoned Firewood is Out of Stock- We still have semi-seasoned firewood available for delivery.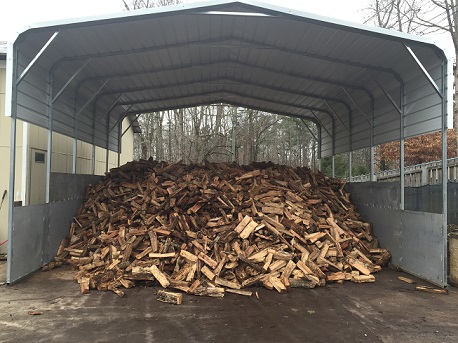 Our premium firewood is split and stored indoors to ensure the wood is seasoned and to prevent mold & rot.
When ordering, inquire about current inventory as premium indoor seasoned wood often sells out. We offer true seasoned dry premium firewood at great prices.
Available for pick-up in Cumming, GA and delivery to Cumming, Alpharetta, Canton, Roswell, Crabapple, Milton, Woodstock, Johns Creek, Ball Ground and Suwanee Georgia.
What makes our firewood better? We use only oak and hickory firewood. No cherry, poplar, gum or other similar lower grade wood. We also split and store our wood indoors to ensure it is properly seasoned and protected from rain which delays drying and leads to moldy, rotten wood. Our indoor dried firewood will produce more heat and less smoke than firewood that has only recently been split or firewood that has been stored outdoors. Properly seasoned firewood lights produce more heat and generate less smoke and creosote than improperly seasoned firewood. Inquire about how long wood has been split when ordering as split time is the primary factor in how well wood is seasoned because it opens the wood grain allowing the wood to dry much more rapidly than when it is simply stacked in logs.
---
Pricing and Firewood Information
We have Standard Seasoned Firewood in Oak and Hickory as well as Premium Barn Dried Ultra-Seasoned Hardwood, Available in Oak & Hickory – high heat output, low smoke.
Measurements
Cord – stacked 4' x 4' x 8' or a single row stacked 4' x 24' basically 128 cubic feet
1/2 cord – stacked 2' x 4' x 8' or a single row stacked 4' x 12'
1/3 cord or Face cord – one 16-18" row of wood stacked 4' x 8'
---
Beware of Truckload Pricing!
A full size truck 6' (short) bed stacked high is equal to ½ cord. Some try to sell a full size truck as a full cord. Without sideboards, a full size truck even a long wheel base usually only holds 2/3 of a cord. A mid-size/compact truck stacked high is approximately 1/3 cord or a face cord.
2021 Prices
Unseasoned / Semi-Seasoned Oak / Ultra-Seasoned Oak (full year seasoned barn dried)
$250/$300/$350 per cord
$125/$155/$185 per 1/2 cord
$90/$110/$130 per 1/3 cord
$75/$87.50/$100 per 1/4 cord
$95/$117.50/$140 per 200 pieces
$50/$62.50/$75 for 100 pieces
$28/$34/$40 for 50 pieces
$15/$18.50/$22 for 25 pieces
* Add 10% extra for Hickory due to increased splitting difficulty
Local delivery charge up to 10 miles is $60, add $4/mile for distances over 10 miles. Delivery is dumped, not stacked. Add $80 per cord to stack.
Truck load pricing – U-load/U-haul
Compact or mid-size Truck $90/$105/$120
Full size short bed (6' bed) truck $120/$140/$160
Full size long bed (8' bed) truck $160/$185/$210
Full 12 yard dumpster $500 (~2 cords) FREE LOCAL DELIVERY - Unseasoned Oak
Full 16 yard dumpster $725 (~3 cords) FREE LOCAL DELIVERY - Unseasoned Oak
Available for pick-up at 14273 Cumming Hwy, Cumming
Mon-Fri: 7am to 5pm and Saturday: 8am to 3pm.
A limited amount of wood is stacked outside fence at this location for after hours pick up. Payment is cash/check in drop box. Call ahead for more info - We deliver firewood to: Alpharetta, Cumming, Canton, Roswell, Crabapple, Milton, Woodstock, Johns Creek, Ball Ground and Suwanee Georgia.
Why Not Heat Your Home with Wood This Winter?
Knowing you are consuming less natural gas or fuel oil and using one of nature's renewable resources is a great feeling! Buy your wood from a tree service knowing you are using wood salvaged from removal operations, not healthy trees growing in our forests.
Did You Know?
The heat produced by burning firewood is actually energy of the sun, the ultimate source of all energy on planet Earth! Through the process of photosynthesis, arguably the single most important thing that happens on our planet, trees are able to store solar energy as chemical energy that we can use for heat when the sun abandons us to the cold dark days of winter. Burning wood is the quick reversal of this process, liberating the sun's heat when we need it most. This is a limitless renewable and sustainable cycle. Burning firewood obtained responsibly with not reduce the availability to our children and grandchildren.
Unlike the burning of fossil fuels like gas or oil, burning firewood releases no more harmful greenhouse gases than would be produced were the wood to simply rot on the forest floor. That's right, the same amount of CO2 and heat is given off either way. One just does it rapidly and one does it over a long period of time. If we are responsible in the ways we select, cut, and burn our firewood, wood burning is actually a healthy choice for the environment. The key is not cutting a perfectly healthy tree to make firewood but harvesting the trees that would have to be removed anyway.
---
We Provide Only Recycled, Premium Firewood
People are going to hire us or others to remove trees. We simply choose to do what we can to see the trees removed are used most efficiently. For example, straight logs with no knots produce lumber. If I take these to a mill it's one less healthy tree that needs to be cut in a forest. The wood with knots and curves is not suitable for lumber so we use that for firewood. The wood that isn't suitable for firewood is used as mulch and pellet fuel.
---
Why Firewood is Good for America
As we discussed above, firewood is a renewable energy source and burning salvaged wood (timber, slash etc.) and wood from dead and diseased trees, or storm damaged trees is like fixing a leaking faucet. It's great to see fuel pellet mills starting to pop up to turn more of this salvaged wood into fuel instead of leaving it to rot and burning more gas. Burning this wood instead of importing oil is good for America. While 85% of natural gas is domestically produced, we import about 68% of our oil products used. When you buy wood you support your local economy and when you convert waste wood to heat your home you are recycling. So don't let that dead tree in the back yard rot. Chop it up, light a fire, turn down the thermostat and be a good American!
---
Properly Seasoned Firewood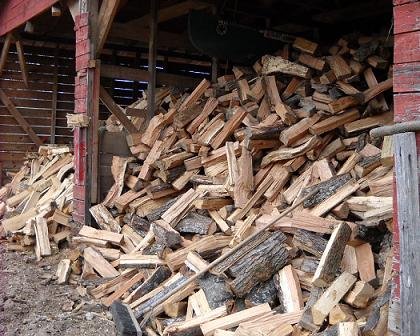 When buying firewood, it is crucial to know how long the wood has been split and how it has been stored. Oak firewood is extremely dense and logs cut years ago can still have moisture in the center. Wood doesn't really dry effectively until split. At a minimum, the wood should be split over the course of the hot dry summer to cure it so this season's wood needs to have been split at least 6 months to be properly seasoned. If you wait until fall to split the wood it will have high moisture and produce less heat and more smoke and creosote. It's burnable and fine if you are doing it yourself but if you are paying for firewood why wouldn't you buy the best?
Other than the difficulty of starting the fire what's the problem with green firewood? All firewood contains water. Freshly cut (green) firewood can be up to 45% water, while well seasoned firewood generally has a 15-25% moisture content. If you try to burn green firewood, the heat produced by combustion must dry the firewood before it will burn, using up a large percentage of the available energy in the process. This results in less heat delivered to your home, and literally gallons of acidic water in the form of creosote deposited in your chimney.
---
Can I Heat My Home with Firewood to Save Money?
Yes! Modern wood stoves, fireplace inserts or wood heaters are around 80% efficient, and heating with them can save a lot of money.
Here is what I came up with calculating out heat comparisons. From what I can tell a good wood heater, a gas furnace and an oil furnace all have around the same efficiency (around 80%) so the BTU to translated heat in your house is equivalent. FYI, the 20% of loss is mostly flue loss or heat up the chimney.
Modern Wood Stove, Wood Heater or Insert – 80% efficient
The cost on a cord of seasoned oak firewood for $350. This produces about 25 Million BTU's of heat.
Natural Gas Furnace 80% efficient
There is 1030 BTU / cu. ft. so 25,000,000/1030 = 24271 cu. Ft. Natural gas is sold as CCF or 100 cu. Ft. so we just divide by 100 to get 242.71 CCF. Here in Alpharetta GA I pay $1.59/CCF. So 25 Million BTU costs $386
#2 Fuel Oil Furnace 80% efficient
Produces 115,000 BTU per gallon so 25,000,000 /115,000 = 217 Gallons of fuel oil. Fuel oil costs about $2.77/gallon so 25 Million BTU costs $602
Electric Furnace 100%
1kWH = 3414 BTU so 25,000,000/3414 = 7322 kWh and again here in Alpharetta, GA I pay $0.12 per kWh so 25 Million BTU costs $879. However, the electric furnace efficiency is near 100% because there is no flue loss of combustion gas. So the net cost is reduced to $703
Electric Air Source Heat Pump 211% Efficient in Atlanta, GA
1kWH = 3414 BTU so 25,000,000/3414 = 7322 kWh and again here in Alpharetta, GA I pay $0.12 per kWh so 25 Million BTU costs $879. However, the air-source heat pump is 211% efficient by using the ambient air. So the net cost is reduced to $266
Open Fireplace 15% Efficient
Due to the lower efficiency of the open fireplace, you would have to burn 5.33 times the wood burned in the 80% efficient stove so the cost to produce the same amount of heat in the home is $1226. The loss in efficiency makes the open fireplace cost prohibitive in heating your home.
In conclusion, my calculations indicate that an efficient wood heater is the cheapest way to heat your home. In warm climates like the southeastern United States electric air-source heat pumps are increasingly efficient and are a close second.
---
Firewood is our specialty at Chipper, LLC Tree Service and we provide great service at an unbeatable price to Cumming, Milton, Alpharetta, Roswell, East Cobb Marietta, Canton, Woodstock, Ball Ground, Dawsonville, Suwanee, Johns Creek, Sandy Springs, Dunwoody, North Atlanta, Norcross, Duluth, Sugar Hill, Buford, and Gainesville.