Chipper LLC Tree Service › Tree Services › Mobile Topsoil & Fill Dirt Screening
We Offer Mobile Topsoil and Fill Dirt Screening in Cumming, GA and the Surrounding Areas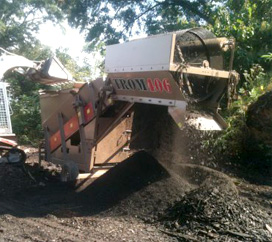 Chipper, LLC is based in Cumming, GA and sells affordable screened top soil, fill dirt, and mulch as well as perform mobile on site topsoil, fill dirt, compost, and mulch screening.
Our mobile trommel screen is also available for rent on a daily or weekly basis.
Screen rental includes delivery to and from the job, skilled operator and fuel 8 hours on job.
First day screen & operator (includes delivery) - $900
Additional days with operator - $700
Additional days without operator - $400.
Skid Steer also available for rent if needed.
We screen material on your site by the yard or by the day. Call Chris at 770-331-3500 for a free estimate. Our mobile trommel screen produces better results and more volume than vibratory screens. Aside from being mobile, our trommel screen is small enough to transport easily but is capable of screening up to 50 yards of material per hour.
In top soil and fill dirt screening, it'll remove rocks, roots and large particles leaving only perfect dirt. Many times on construction projects large quantities of dirty topsoil with rocks, roots and grass clumps are scraped off a building site and stockpiled. This can often be a liability. Screening this material can turn a liability into a valuable asset with standard top soil selling for $10.50/yard wholesale and up to $22/yard retail.
Used horse bedding that has composted for a year or more can be screened and sold for $30/yard.
With sand, gravel, wood chips, manure, peat, bark or mulch, a screen can be used to remove oversized or undersized particles. For example, our tree service screens our wood chips from our chippers. We use a small screen to produce bark fines which is used for compost and a larger screen to get out the oversize chunks leaving a nice uniform sized product that can be sold rather than being a liability.
---
On-Site Screening
On-site screening is a great form of recycling. We come to you and reclaim your mixed materials that may be low value or even a liability back into a premium product.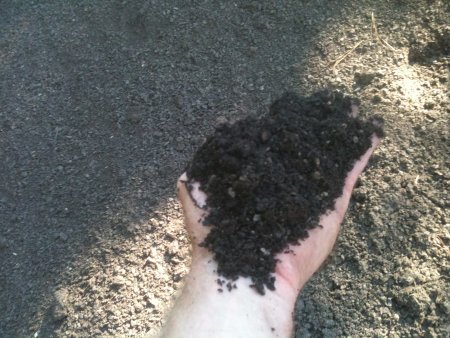 Wood yards can screen your excess bark stockpiles once with a tight screen to remove fines to sell as compost and then again with a larger screen to yield pine bark chips. Landscape supply yards with on site stockpiles of common dirt or fill can affordably convert a low dollar product into a premium product and add another product to their line up. On large clean up sites screens can be used to separate trash or wood products from dirt. On site screening can eliminate hauling loads of heavy dirt to a landfill by simply screening the trash out of the dirt.
---
See Our Mobile Trommel Screen in Action
---
Mobile Topsoil & Fill Dirt Screening is our specialty at Chipper LLC Tree Service and we provide great service at an unbeatable price to Cumming, Milton, Alpharetta, Roswell, East Cobb Marietta, Canton, Woodstock, Ball Ground, Dawsonville, Suwanee, Johns Creek, Sandy Springs, Dunwoody, North Atlanta, Norcross, Duluth, Sugar Hill, Buford, and Gainesville.