Chipper LLC Tree Service › Tree Services › Tree Care & Fertilization
Comprehensive Tree Care Services in Cumming, GA and the Surrounding Areas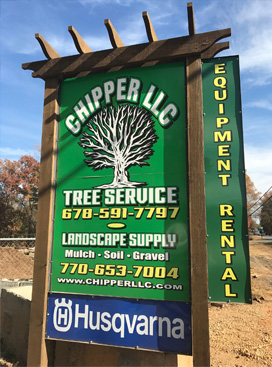 Chipper, LLC can help you care for and maintain your trees. Our estimators can provide assistance with distressed, diseased or dying trees.
Most unhealthy trees can be improved with mulch, fertilizer and water. Even when pesticides are used, they should be used in conjunction with proper mulching, fertilizing and watering.
---
Mulch
Mulch insulates the roots near the surface helping to provide a buffer from heat and cold temperatures. Most roots responsible for nutrient and water uptake are less than 6" deep. Mulch helps the soil retain water to keep the roots moist. By mulching, we eliminate grass and weeds that compete with trees for water and nutrients. Mulching adds nutrients to the soil as the mulch breaks down into compost. Mulching prevents soil compaction which increases aeration, and mulching prevents lawn mower damage to surface roots. Mulch should be installed 2-4" deep around the tree but should not contact the actual trunk of the tree. See our products page for discount pricing on mulch products.
---
Fertilizer
A balanced fertilizer blend such as 10-10-10 is good choice for trees with poor leaf color during the growing season. For example, yellow leaves are common and normal in early fall but yellow leaves or failure to put out complete foliage in the summer months can indicate a nutrient deficiency. We use a premium slow release UF blend. A combination of a 10-10-10 fertilizer treatment along with mulching and a good soaking will fix most problems. For more in-depth analysis, soil samples can be taken for a small analysis fee ($100 first sample, $40 each additional sample) to propose a treatment plan. When trees are mulched they can be fertilized with broadcast surface treatment. When trees have grass over the root system a more costly deep root fertilization is required.
---
Water
In times of drought, we recommend laying out a soaker hose in the drip line of the tree and allowing the soaker hose to run for 8-12 hours to simulate a long deep rain. Do not put a soaker hose near the base of the tree on mature established trees. It is best out near the drip line of the tree. In established mature trees the roots near the base are stabilizer roots to support the tree not to feed the tree.
---
Pesticides, Insecticides & Fungicides

As listed above mulch, fertilizer and water will usually keep trees healthy and healthy trees are more resistant to pests. In the instance where pest infestation has already begun, it may be necessary to use pesticides. Pesticides can be applied to the tree, the ground or injected directly into the bark to control pests like Adelgids, Borers, Aphids, Japanese Beetles, Pine Bark Beetles, Psyllids and more. These treatments can give your trees instant access to the nutrients they need including control of insects and fungus.
---
Tree Care & Fertilization is our specialty at Chipper, LLC Tree Service and we provide great service at an unbeatable price to Cumming, Milton, Alpharetta, Roswell, East Cobb Marietta, Canton, Woodstock, Ball Ground, Dawsonville, Suwanee, Johns Creek, Sandy Springs, Dunwoody, North Atlanta, Norcross, Duluth, Sugar Hill, Buford, and Gainesville.