Quality Tree Trimming Company In Marietta GA
Choose Chipper LLC Tree Service For All Your Tree Trimming Needs In Marietta!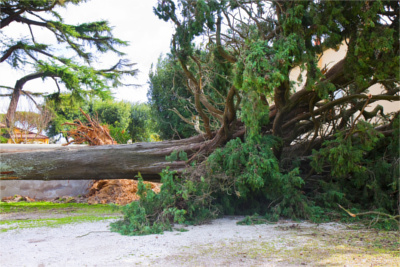 For over 10 years we have created and retained a large group of customers, based on our commitment to quality and affordable tree service pricing. Our commitment to reinvest in our company has grown us to have the manpower, tools, equipment to handle both residential and commercial tree service work. We would love the opportunity to become the company you turn to for your tree service needs!
Our goal is to perform your job with minimal impact on your lawn and surrounding landscape. We aren't just tree cutters who subcontract our work, we are a tree service whose job is not complete until the work is done and the mess is gone. We use track-mounted low ground pressure machines and even do jobs by hand when required. Our estimator will be happy to discuss your tree service job in detail and ensure everything goes smoothly.
If you're experiencing a tree emergency, call us at (678) 591-7797 asap!
At Chipper, LLC Tree Service, we understand the importance of quickly getting the tree off your house so the roof can be stabilized and tarped. We have multiple full-time estimators for prompt service. We can also tarp your roof for you immediately after removing the tree if needed.
We are environmentally conscious in our demolition methods, and will make every effort to save metal roofing and framing, copper, and aluminum for recycling rather than dumped in our landfills. In a similar effort your tree debris will be converted into logs, fresh firewood, or natural mulch for your landscaping.
Storm Damaged or Injured Trees
Sometimes storm damage may just be a broken limb that doesn't compromise the tree, but it is a good idea to have any tree that has lost a large limb inspected by a tree professional who can do a risk assessment on the tree to make sure more limbs aren't injured and waiting to fall. We provide this service for free. I once had an 8" limb fall from a damaged tree onto my head and I probably wouldn't be writing this if it weren't for my hard hat. I still suffered a minor concussion, sore back and busted lip with a hard hat on. Granted a tree limb falling on you isn't likely but neither is getting struck by lightning and most of us try to avoid that risk. Injured trees are more likely to fail/fall but injuries don't always necessitate tree removal. We and most true tree service professionals offer free inspections.
Tree Removal Experts In Marietta
We want to be the tree service for all your tree removal needs. We'll perform your tree removal job with minimal impact on your lawn and surroundings as well as use turf friendly track mounted machines, and even do jobs by hand when required to protect your lawn.
Why Would You Want To Remove A Tree?
Trees Outgrow Their Area
Having trees close to your house presents a real "catch 22" situation. On one hand, the shade that trees provide lowers cooling costs in the summer and provides a buffer from winter wind. On the other hand, the reduction in sunlight can contribute to mold and rotten wood, causing maintenance costs to increase (this is covered in more detail in the maintenance section below). Trees too close to houses can also allow unwanted pests like squirrels and mice to enter the attic. Sometimes when a tree is too close to a house, we can simply trim or prune the tree limbs away from the house, but if many limbs need to be removed, it can cause the tree to no longer be aesthetically pleasing. In that case, it may be better to remove the tree and plant another more compact growing tree or simply choose a more suitable location.
Maintenance
I don't know many people who like to clean gutters. I actually could start a gutter cleaning business with the number of calls I get looking for a good cheap gutter cleaner. Everyone wants a cheap gutter cleaner, but all the cheap ones I know aren't insured and therefore I refuse to refer them out. Unfortunately, clogged gutters are worse than not having gutters at all. Clogged downspouts cause the water to overflow onto the face(fascia) boards and water trapped behind the gutters causes them to rot. So that "leaves" (pun intended) us to install a gutter cap like LeafGuard. Otherwise clean them yearly after all leaves have fallen, and if you get fed up with that - we are tree removal specialists!
Tree Pruning & Trimming For Marietta Homes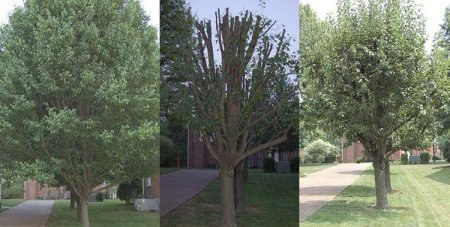 Removing hazardous dead tree limbs can help to prevent property damage, prevent physical injury, and help to promote new tree growth - all while increasing the aesthetic appeal to your yard! In addition to this, proper tree pruning also helps to improve your line of sight for safety reasons, curb appeal, and help to reduce the clutter or mildew build up among your shingles. Trimming your branches closest to your house also prevents those pesky critters such as squirrels or mice from getting into your home. While we don't offer pest control services, we do remove the tree limbs that squirrels will use to enter into your home!
So Which Sort Of Trimming/Pruning is Right For You?
Raising The Canopy
This type of tree trimming is where only the lower limbs on a tree are removed. This is the most popular type of pruning. The after effect is increased curb appeal. Look, honey, we have a front door, landscaping and a bay window!
Crown or Canopy Reduction
Canopy reduction occurs where a tree has outgrown its environment and cannot continue to grow upward. This is most often due to interference with overhead utility lines and is best done as part of a maintenance program where a small portion is removed each year (always less than 25%).
---
Testimonials About Our Tree Trimming in Marietta:
"Chris, thank you and your team. I spoke with my mother tonight and she indicated she had never been so impressed. Your guys were courteous and polite and efficient. Again thanks, you will keep getting our referrals."

Jim Pruett -- Roswell GA
"A note just to say thank you for such a quick response to my tree problem. Your crew did such a great job, I have already recommended your company to a neighbor looking for tree service. I plan on using your company for any future tree services. Again, thanks and give your crew praise for the outstanding service they provided me.

Victor McLendon -- Johns Creek GA
---
For the best quality tree trimming in all of Marietta, choose the experts at Chipper LLC Tree Service! We are available for emergency tree removal and service, and can help transform your yard into something beautiful once more.
Contact us
for a FREE estimate ASAP!